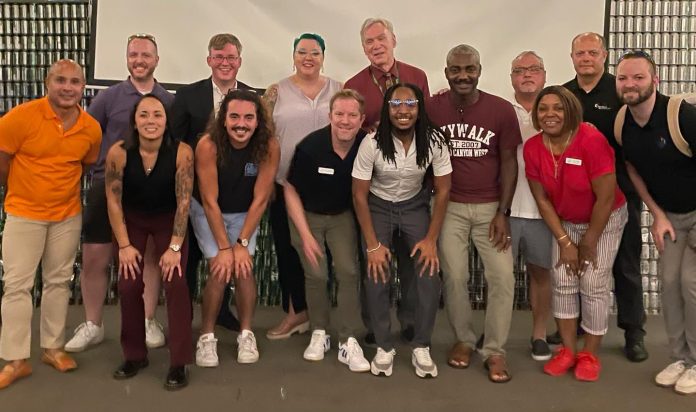 Hampton Roads Pride yesterday announced the members of the organization's first-ever 15 person board of directors. Their term starts in November and will run through November of 2024.
Officers and Board Members are:
Jeff Ryder, President. Jeff is the Managing Director at Virginia Stage Company.
Jamar Davis, Vice-President.
Jason McDonald, Secretary. Jason is a 

Technical Team Manager

at Emergent.
Tony Crudup, Treasurer. Tony is Assistant Controller at Tidewater Fleet Supply/TNT Parts.
Nick Dentelmann, Immediate Past President. Nick is a

Buyer – Category Manager

at

Dollar Tree.

Rudy Almanzor is a registered nurse at AMN Healthcare.
Hannah Barber.
Angela Benard is the Senior Director, Advancement & Communications at Virginia Living Museum.
Faun Faulks is the Business Office Director at Chesapeake Place Senior Living Community.
Dr. Charles Ford is a Professor of History at Norfolk State University.
Cory Moreno is the the Event Liaison at Tradition Brewing Company in Newport News.
Michael Pidgeon
Greg Reynolds is the CEO and Founder at Hadley-Reynolds, Hampton University.
David Seeley is the Tax Director at Beth Moore and Associates.
Christina Schmidt is a Program Manager, Medicaid Pharmacy Ops at

Elevance Health Careers.
In his outgoing statement, Past President Nick Dentelmann said, "It is with extreme thanks & gratitude that I complete my term as President. I stated I would complete a one year term with three goals in mind: financial stability, year round events, and an updated board mission and headcount.
"We welcomed new sponsors. We added an Art Series, Brew Tour, expanded sports events and expanded city festivals. We now have a 15 member board. With all three completed, I am happy to see the torch passed to this new group of leaders."