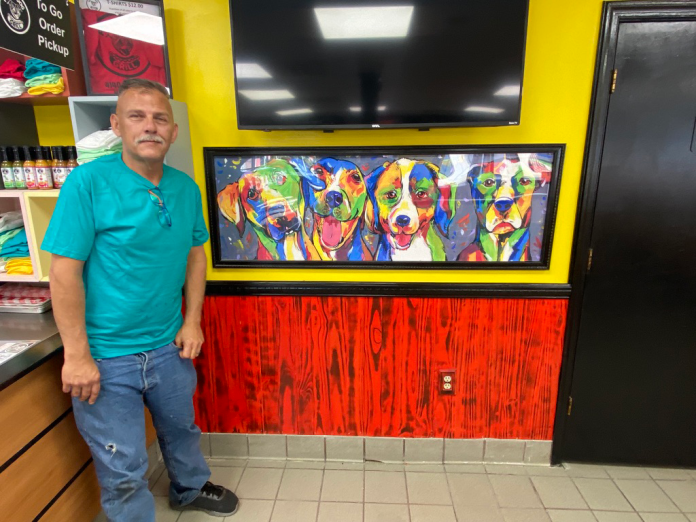 Visitors to the Riverview section of Norfolk now have a new and unique dining option. The Pittie Dog Grill recently opened at 4140 Granby Street and will celebrate with a Grand Opening event this weekend.
Conceived, owned, and operated by Larry Sauger and Karl Neumann, the restaurant simultaneously pays homage to their upstate New York roots as well as their pet pit bulls.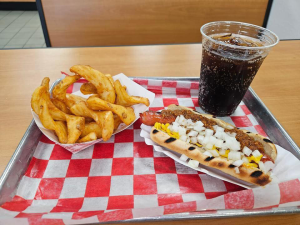 "There's a there's a grouping of restaurants in Buffalo that we grew up with just have a really good hot dog that they chargrill," said Larry. "They also have a topping bar, and customers choose their own."
Ken said the concept was born out the indisputable fact that a good hot dog is hard to find.
"Those dogs were the best, and we always found there are no real decent hot dogs here," he said. "For the grill, we purchase from Sobrato in New York City, which is actually just a good flavorful hot dog."
So where does the pit bull come in?
"We own to Pittsburgh pit bulls, and everybody thinks pit bulls are this trash breed, the same way we thought about local hot dogs," Karl said. "So the name dispels both preconceptions that a hot dog can't be great and a pit bull can be good."
The couple is planning to donate a portion of their proceeds every month starting in January to  a different dog rescue. From now until the end of the year, they are donating proceeds from the sale of all T shirts and hot sauce to Norfolk Animal care and the SPCA living the proceeds of all of our T shirts or hot sauce. Add any donations we receive between them.
Larry and Karl are long time and active members of the local LGBTQ community.
WANT TO GO?
Pittie Dog Grill Grand Opening Weekend
November 4 and 5, 11am-7pm
4140 Granby Street, Norfolk